Memory Care Communities
We understand Family Members of loved ones with Alzheimer's disease and other related dementias go through some of the most difficult challenges in their lives. Experienced and compassionate help is available in our memory care program neighborhoods and purpose built communities. These Communities are dedicated to caring for people with Alzheimer's disease and other types of memory impairments in a nurturing, residential environment.
Providing Comfort and Care
With our innovative Program, we create individualized care and service plans for our Residents with Alzheimer's and other related dementias. Plans are based on their levels of need—which may increase over time as their needs evolve. Our Memory Care program is managed by a nurse, and our specially trained Team Members are available 24-hours a day, seven days a week, to provide comfort and security in a safe, familiar and stimulating environment. We also partner with a myriad of health care professionals to help provide the most innovative services for our Residents.
Promoting Independence
Independence is key to ensuring happiness and quality of life. Our Residents value their independence as it brings with it dignity, control, self-esteem, and fulfillment. We encourage independence as much as possible as it often creates a sense of achievement and pride in our Residents' accomplishments. Taking control of certain aspects of their day-to-day tasks can not only lift the mood and outlook of a resident, but can also help improve his or her overall health and well-being.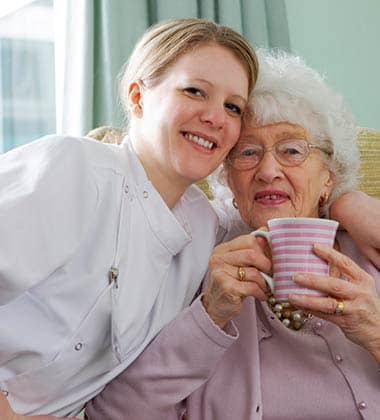 Enriching Residents' Lives
Our Memory Care Program is rooted in a Resident-centered approach focused on creating feelings of belonging and purpose for residents. We seek to preserve their dignity and sense of self. This sound philosophy, life enrichment activities, and partnerships with health care professionals make our Memory Care Communities leaders in the communities we serve. We strive to keep our Residents engaged in life mentally, emotionally and physically. With positive reinforcement and a variety of effective programs, our goal is to enrich their lives.
Holistic Approach Based on Eight Components
Our Memory Care Program's holistic approach in caring for people with dementia is based on Eight Core Components. These proven components help support and comfort our
Residents and enrich their daily lives.
Personal care and activities of daily living
Social interaction
Emotional support
Physical activity
Mental stimulation
Life-enrichment activities
Artistic expression
Good nutrition
Services & Amenities Add Value
Our wide range of services and amenities varies by location and may include:
Private or companion suites
Beautifully decorated common areas and landscaped outdoor areas
Restaurant-style dining with flavorful and healthy meals designed for seniors
24-hour nursing staff
Assistance with activities of daily living (dressing, bathing, personal care, ambulation)
Medication management
Incontinence care
Secure landscaped and outdoor areas
State-of-the-art life safety and call systems
Housekeeping and laundry services
Social, recreational and life enrichment activities
Exercise and wellness programs
Exercise and fitness center
Physical therapy services
Private entertainment areas for friend and family gatherings
Beauty and barber services
Library
Cards and crafts
Transportation services
Resources, education and support for family members
Complimentary parking
Encouraging Residents to Thrive
There's no doubt that dealing with Alzheimer's and dementia can be a difficult journey for Seniors and their Families. As dementia symptoms progress, our goal is to improve our Residents' sense of well-being by providing emotional support and helping to maintain familiar activities and social contacts. This allows us to provide a nurturing atmosphere in which all Residents are encouraged to thrive—wherever they are in their dementia journey.