Independent Living Communities
Making the Most of Your Retirement Years
Independent living is designed for seniors who do not require assistance with daily activities such as medication management or help with bathing and getting dressed. Independent Living Communities are designed for seniors who may benefit from being a part of an active and carefree environment which offers communal spaces such as dining rooms, recreation rooms, activity and craft rooms where they may enjoy a myriad of social opportunities throughout the day.
Our Communities are known for their excellent service, friendly atmosphere and welcoming community – along with their wide range of services and amenities. The attractive Communities not only provide senior-friendly accommodations, but residents can take advantage of everything they have to offer, while at the same time, maintain the ability to come and go as they please.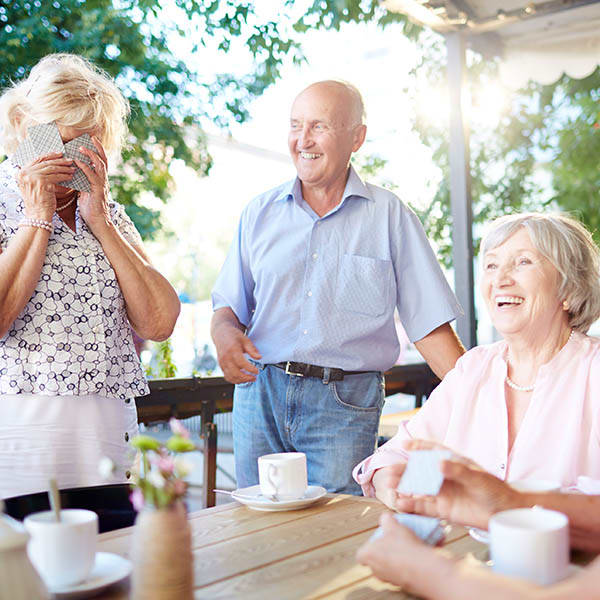 Maximizing Independence
We enable seniors to trade in their household chores such as housekeeping, yard work and maintenance, for the comfort of a well-deserved retirement with activities in an engaging social environment. This enables residents to pursue personal interests and maximize their independence, dignity and self-respect during their retirement years.
Routine Service Excellence
Our staffing philosophy supports our mission and core values, and goal for our team members to provide the best possible customer service to our independent living residents. This routine service excellence means doing things the right way, all the way, every time. The philosophy is routinely shared and reviewed with our team members and sets the stage for a positive customer experience every day.
Residences Offer Popular Features
Our Independent Living Communities feature spacious apartments and/or independent cottages with a number of popular features that may include full kitchens, ceiling fans, pull-cords, walk-in showers and closets, garages, patios, free parking, and more.
Services & Amenities Add Value 
Seniors find a rewarding lifestyle at each Senior Services of America Independent Living Community. The Communities may feature common spaces such as dining rooms, recreation rooms, sitting rooms, craft and card rooms, exercise and physical therapy rooms, spas, beauty/barber salons, and more for a myriad of social opportunities throughout the day. Our wide range of services and amenities varies by location and may include:  
Gracious accommodations (apartments or cottages) with a variety of senior-friendly floor plans
Beautifully decorated common areas and landscaped outdoor areas
Restaurant-style dining with flavorful and healthy meals designed for seniors
Social, recreational and life enrichment activities that promote an independent lifestyle
24-hour staff
Beauty and barber services
Private entertainment areas for friend and family gatherings
Housekeeping and laundry services
Library
Crafts and cards
Exercise and wellness programs
Exercise equipment
Transportation services
Complimentary parking